Širom: The openness in our music lets the magic happen
In an interview with the Slovenian 'imaginary folk' instrumental trio Širom (Ana Kravanja, Iztok Koren and Samo Kutin), we discussed their innovative approach to producing music, their concert in Skopje at the 20th edition of OFFest and their latest album which will be published next spring.
Your music consists of an imaginative set of folk sounds and an acoustic rock. What inspires you to create this distinctive sound, followed by your unique stage performances?
When we started creating music together, we decided to discover our sound by using different acoustic instruments. Some of them are classic, some are traditional folk instruments from different countries and some are self made. The idea was to play drone and trans music, but pretty soon, we realized we need to let the music develop on its own. I think this openness in our music lets the magic happen. Of course, we needed to think of tunings and instrument combinations, but going through our process of creating by improvising left many doors open. We think that this is really important for this type of music.
This month, you performed at the 20th edition of OFFest in Skopje. Can you tell us more about the atmosphere and your impressions of re-maintaining the cultural events after a long period of isolation due to the pandemic?
During the first lockdown last year, we have been working on a new album that will be published next spring. The process became some kind of a ritual and helped us a lot while we were going through many 'dark days'. Creating something that we love started to make sense in our lives and made us aware how important it is to share our positive energy with others. That is why we decided to self-organize an underground tour when the lockdown was over and share our new music with everyone. We held six acoustic concerts on very special locations in rural areas of Slovenia.
During the summer, we had a very nice tour in Italy, finishing it in Sardinia, and a few concerts in several Balkan countries. That is why our concert in Skopje was the finishing touch of a quite active period after which we can slowly start preparing for another lockdown. The atmosphere during OFFest was wonderful and we would gladly visit Skopje again soon.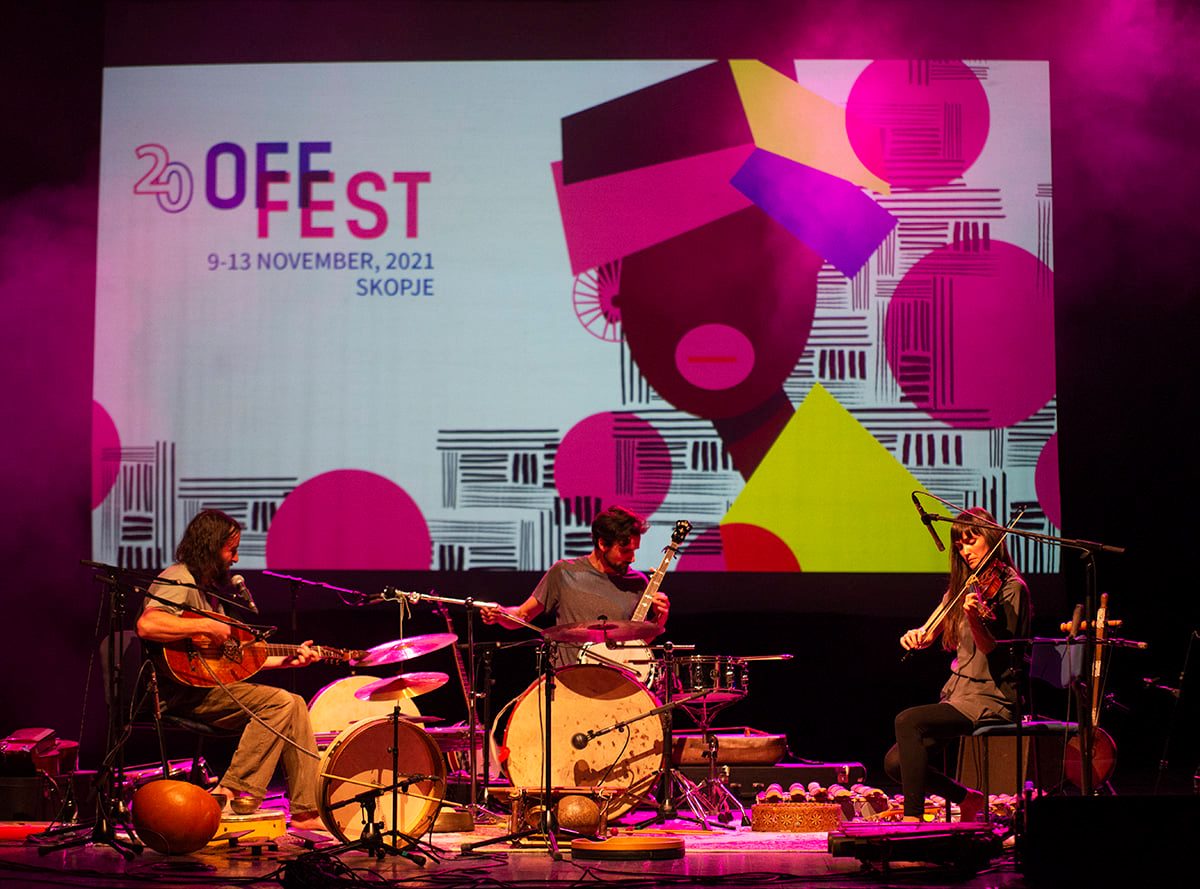 Can you tell us more about the process of recording your third album, "A Universe that Roasts Blossoms for a Horse" (Glitterbeat records)?
Nature and its cycles, different rituals and inner personal worlds are always big sources of inspiration for us, but the development of each album has its own uniqueness. For example, our first album "I." was heavily influenced by our common wish to do acoustic drone, trance and improvised music. We have explored the influence of nature and landscapes from places where we were born (flatland, mountains, karst), which you can see in the short documentary Memoryscapes. Our third album, "A Universe that Roasts Blossoms for a Horse", has the least amount of musical improvisation. The compositions were most structured so far, and each of us did a lot of material by themselves at home and then brought it to rehearsals. Still, there are moments of open improvisation, but not as much as on our previous albums. We have already recorded the forth album, where we have also explored the affect of the pandemic on each of us and tried to "knit sense" in these strange times.
Have you faced any challenges during the global pandemic? Have the prolonged periods of isolation affected your creative process?
People react very differently to the pandemic, the restriction measures, how to explain the situation to yourself, how to make sense of it etc. With us, this is similar, but despite of this fact, we still found ways to keep good personal relationships with each other and stayed heavily connected as a band, and as a result, the pandemic did not have any negative impact on us. Isolation can have good and bad effect on your creativity  – you can fight depression with creativity, but on the other hand, isolation can also cause depression, so it can be like "chasing your own tail" sometimes.
The three of you are multitalented instrumentalists. Can you tell us more about the ways of combining these instruments? Which instruments do you usually play the most?
Sometimes we want to base the combination of instruments on the of the sound of each instrument, and sometimes we create it by coincidence. The preparations of instruments can also be very helpful, not only while we are combining them, but also when we are searching for a specific sound.
Ana: I mostly play bow instruments, especially violin, which I also prepare when free improvising. My passion in the last few years is playing frame drums.
Samo: I mostly play Hungarian medieval instrument hurdy gurdy. Using preparations that I discovered is perfect when playing on free improvisation concerts. One of my innovations is a self-made acoustic resonator made of spring and frame drum which works as a combination of acoustic amplifier and spring reverb.
Iztok: I mostly play banjo – I love this instrument, because it is a guitar and drums all in one, and because of that and some other specificities, such as the position of strings and tuning. There are so many undiscovered possibilities to play this instrument and produce interesting sounds. Lately, I have been very busy with playing and practicing on morrocan traditional bass gembri, which will be included on our next (yet unreleased) album.